Leadership – Jeff Gotro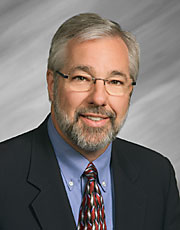 Jeff Gotro, Ph.D., CMC®, President and Polymer Science Expert
Jeff has over thirty years' experience in polymers for electronic applications and composites having held scientific and leadership positions at IBM, AlliedSignal, Honeywell International, and most recently as Vice President of Technology for Ablestik Laboratories. He is an accomplished technology professional with demonstrated success directing new product development, leading to multi-million dollar revenues. Jeff brings to his clients a solid proficiency in managing the research, development and commercialization of new products. He has global experience developing new products having established a full function R&D and Applications Engineering lab in Shanghai, China for Ablestik Laboratories. Jeff has experience with companies ranging from early start-ups to Fortune 50 companies.
Jeff is an expert in thermosetting polymers and he has received invitations to speak at Gordon Research Conferences (Thermosetting Polymers and Composites). He has presented numerous lectures and short courses at national technical conferences. Jeff was an Adjunct Professor at Syracuse University in the Dept. of Chemical Engineering and Materials Science from 1986-1993. He taught Six Sigma Black Belt and Green Belt at California State University at Fullerton from 2001-2006, and taught courses on Innovation and Product Development in the MBA program at Concordia University in Irvine, CA from 2009-2011.

CMC® (Certified Management Consultant) is a certification mark awarded by the Institute of Management Consultants USA. This certification represents evidence of the highest standard of consulting and adherence to the ethical canon of the profession. Why hire a CMC?
Jeff is a member of the American Chemical Society (ACS), the Institute for Management Consultants (IMC), the Forensic Expert Witness Association (FEWA), International Microelectronics Assembly and Packaging Society (IMAPS), Society of Plastics Engineers (SPE), and the Society for the Advancement of Materials and Process Engineering (SAMPE), and was inducted into Sigma Xi, The Scientific Research Society in 1989.
Jeff has published 59 technical papers (including 4 book chapters) in the field of polymeric materials for advanced electronic packaging applications, holds 14 issued US patents, and has 5 patents pending.
Jeff has a Ph.D. in Materials Science from Northwestern University with a specialty in polymer science and a B.S. in Mechanical Engineering/Materials Science from Marquette University.
Click here to download Dr. Gotro's Curriculum Vitae
For additional bio information, please see Dr. Gotro's professional profile on LinkedIn.
Contact us today to find out how we help you leverage state-of-the-art polymer technology that improves your business performance.