Expertise in Turning Polymers
into Profits
Improve business performance

by solving complex polymer problems that may be negatively impacting performance.

Leverage your R&D investment

by developing new polymer technology and product platforms, not just single products.

Improve profitability

by developing new/ improved polymer products faster and with nearly zero defects.

Develop new revenue streams

by adapting your existing polymer products or technologies for new markets or applications.

Develop products that are environmentally friendly

by incorporating biopolymers and bioplastics in your products or formulations thereby reducing carbon footprint.

Optimize your Intellectual Property portfolio

using our proven IP management process and strategy, tailored specifically for polymer companies.

Provide expert witness testimony, litigation support and consulting
Our proven polymer consultants work with you to turn obstacles into opportunities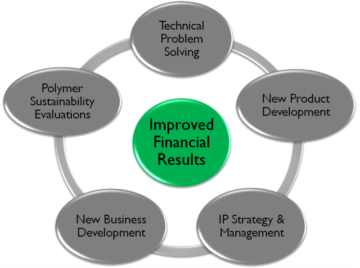 Our polymer consultants provide a wide range of consulting services to growth oriented companies that use polymers to gain a competitive advantage. We have a skilled team of polymer consultants with specialties in high performance polymers that are used in formulated products such as adhesives, composites,laminates, prepregs, encapsulants, coatings, filled polymers, and high performance thermoplastics.
InnoCentrix has experienced biopolymers and bioplastics consultants, enabling clients to develop bio-based polymers to their product portfolios. Our polymer consultants have extensive technical and management experience leading new product development, new business development, and adding profitable new revenue streams for new or existing products.
Contact us if you have a complex polymer problem to solve, a new polymer product to develop, want to explore new market opportunities for your existing polymer technology, or need expert witness services. Our skilled polymer consultants are ready to enable you to grow your business.